Bonjour monde!
This is part 2 of the Valentine's DIY Box of Love Gift, and is it girlie! I wanted this post to be a no-brainer for you poor gentlemen who feel like you are drowning in a vat of peanut butter on the 14th.
Today, we give you the mighty mani/make-up suggestion box, among other things. See for yourself:
Help!!!! That's what I hear men screeching when it comes to dreaded V-day. I have simplified an overly trashy, overly expensive, overly commercial, and confusing holiday gift ideas, for you non-romantic, but she will strangle me if I don't make an effort, and I do love her so please assist me, gift box. You must purchase a box at the Dollar Max or Dollar tree, but first buy the items you want to put into it, that way the stuff will fit into this box-I know, you would have gotten that wrong. Shhhh, it's our little secret. So, when you have a girlie girl ,you need to speak the lingo and that's actually easier than you think. remember this:
NMBP
N=Nails M=Make-up B=Bodycare P=Perfume/Plushies
Nails: A gift box full of colours that your girl likes and are trendy, will be a huge hit if she's into that stuff. Essie is a very popular brand and is now sold in all kinds of stores, pharmacies, and places like Sephora. Feel overwhelmed, ask the lady who works there to pick out the season's latest colours and here's the link so you can find out more on your own.
They range from $9.99-$12 a pop. I recommend adding some fun sparkly colours from other companies that are a bit less expensive, so she can have a few colours and add a base coat that is clear-why? Base coats protect the nail and btw, gel nail colours are all the rage right now. They just stay on longer and are more vibrant, I am not into it that much but you may hear your lady talking about it as your eyes glazed (pardon the pun) over in absolute boredom. Back to other brands of nail colour. Sometimes they go on sale for less than $3, just make sure you know her favourite colours. Look through her wardrobe, ask her friend, or check what polishes she has, you may even overhear her squealing as she looks at her Pinterest board. Feign interest and write it down, tuck it away in your wallet and you are good to go-just don't be obvious. If it's all too much or not enough, throw a mani/pedi gift certificate from her favourite place (ask a friend of hers) and then add a card, chocolate or candy and watch the kisses fly your way.
You can also get these awesome nail decals aka nail wraps from Jamberry, that are easier on the nails, are full of fun designs and very au courant, from this place on-line and they have Valentine special designs along with gift cards, if it's all too much. Here:
Perfume= A scent she loves, has been bugging you for, talks to her girls about, or is running low on.
YOU MUST find out through stealth mode tactics because perfume is highly personal. What does that even mean? Well, you may like a scent but she may hate it and that's because when a person likes a scent, it usually indicates that the perfume will smell good on them. When they do not like a scent, it usually means that it will stink to high yuckie Mc Yuckerson's on them or they may be allergic, it's a chemical thing and our bodies instinctively know.
And now we move forward to Make-up:
Lip balms, lip gloss, false lashes and glue, Mascara, Lip pencils, Eye pencils, and colour whispers are great if you have no clue what she likes to wear. Again, do some recon, and try to take pics to bring with you of what she already has. This way when you go to the pharmacy or Sephora (which you can buy on-line if you can not stand shopping), you can show the lady who works there and she will guide you to the right stuff, usually (Be clear out the gate with her about your budget).
Have fun and think about what you find she looks sexy in, throw some choices with chocolate and a card or note then you are good to go!
Bodycare: Body scrubs are awesome, I have a recipe that I make but I highly recommend you go to Lush or seek them out on Etsy. Get stuff she likes and you can even throw in massage lotion bars or sexy body butter.
For Lush products, and they already have Valentine box sets, here is a link. If you go to a store be prepared to be overwhelmed by smells of scented everything!!!!!!
http://www.lush.ca/
Another fun item I have discovered at the pharmacy are lipsies, they have a slight wash of colour and smell yum-scrum. Throw in some lipstick that is a trendy new colour with some awesome sparkle face powder and you will be receiving happy smiles. Keep your receipts in case she needs to return or exchange, sometimes a girl may buy what you bought, before hand unknowingly.
My last suggestion is a Plushie: Try to get something different than the usual bear, unless she adores those. I am an Eeyore fan, but you can get a Kawaii Hello Kitty, or a giant Soot Sprite or Lobster-if she's your lobster and that's your thing. Here are some links to help you out, gift cards are also very acceptable so do not panic, and remember to add your card or note with actual writing from you and something nice. See previous post if you are needing help in the writing department, I linked fonts in that one too.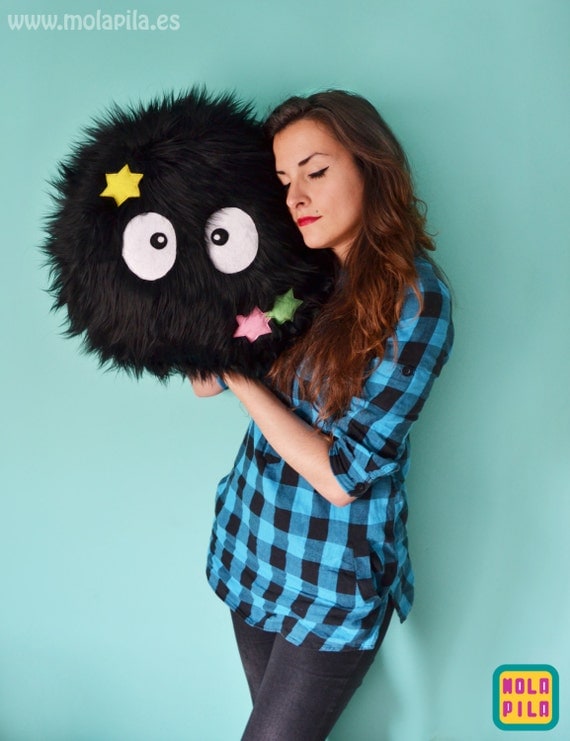 (Poppa Bear showed me this and I am obsessed with it, I think soot sprites are too cute! Big time want for our couch.)
http://www.sanrio.com/hello-kitty-valentine-shop/