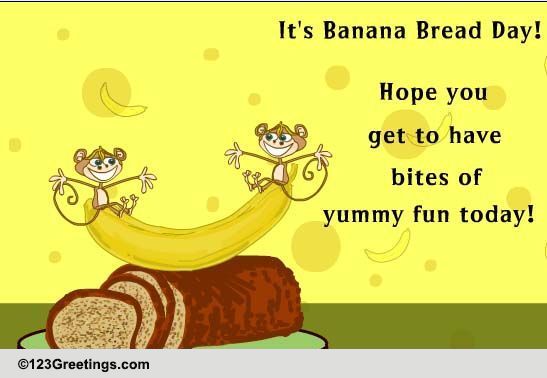 Hello One & All!
It is February 23rd & that means National Banana Bread Day is here!
Such a yummy way to enjoy bananas.
A fruit that has become very popular, did you know that the beautiful bananas we are used to eating today with their full sweet creamy satisfying fruit, were once mostly seeds which one had to suck on to get to the pulpy goodness we take for granted today?
Bananas are actually facing some serious difficulties which is something we should be aware of as our beloved fruit could face an untimely demise. Say it isn't so Kiki!
It is sadly true, Panama Disease is very real, has been here before, and our bananas face an uncertain future!
Let me drop some knowledge on you before I share my awesome Vegan, Gluten-free Banana Bread recipe.
Going bananas?
The serious threats facing the world's favourite fruit
Learn how we can save the banana... And why that is so important.
When was the last time you ate a banana? Have you ever considered what it might be like if the famous musical hit
'Yes, we have no bananas'
was to become a reality?
Such a scenario is not as unlikely as it may seem as the future of the world's favourite fruit is under serious threat. And not for the first time...
In the first half of the 20th century, our parents and grandparents ate a delicious banana called Gros Michel, or Big Mike in colloquial terms. But in the 1950s a deadly strain of Panama disease wiped out almost all banana plantations in Central and South America. Despite the best efforts of growers, this most flavourful of fruits became virtually extinct.
In the second half of the 1900s banana producers across the world switched to a different cultivar, the so-called the Cavendish. Although less tasty than Gros Michel, Cavendish was resistant to the type of Fusarium that was causing Panama disease.
As a result, following enormous investments in infrastructural changes required to accommodate the Cavendish's different growing and ripening needs, the banana industry was saved.
But not for ever… in the 1990s a new strain of the Fusarium fungus appeared and began to spread. Originating in Taiwan, it soon reached other South East Asian countries such as China, Indonesia, Malaysia and the Philippines – and even northern Australia. Thousands of hectares of Cavendish have already been destroyed and many will follow if we are unable to stop Panama disease.
Bananas
The worlds most favourite fruit crop
Panama disease is not only a huge concern for the global export banana sector. It exerts an even greater impact on the domestic production of this staple crop as many locally preferred cultivars are also endangered, threatening the livelihoods of millions of smallholder producers.
Some banana facts:
More than 100 billion bananas are consumed annually in the world, making it the fourth most important food crop after wheat, rice and corn.
85% of the world's banana production is used for local consumption, and only 15% is exported (mainly to the USA and Europe).
Americans eat more bananas than any other fruit, with an average consumption of 11.9 kg per year, more bananas than apples and oranges combined.
As promised, here is my recipe as an ode to Bananas on National Banana Bread Day. I posted this a little while ago but it's a really good recipe and I actually have bananas in need of bread baking; so why not post it here once more for those of you who really shouldn't miss out?
Here's a banana ripeness chart, you need very ripe bananas to make a good banana bread; the more ripe, the better! #7
It's gluten-free & dairy-free, I added egg to mine when making for guests but for Vegan goodness, which I prefer, you can replace it with flax "egg". I will include it. Enjoy it!

Gluten-free Banana Bread Recipe
Ingredients:

4 Large bananas mashed 1 3/4 Cups
1 LG egg or 1 flax "egg" (1 tbsp ground flax with 3 tbsp water, stir let sit 3 minutes until gummy)
3 Tbsp coconut oil
1 Tbsp walnut oil
1/2 Cup maple syrup
1/4 Cup brown sugar
1/2 Cup almond milk soured with 1 Tbsp lemon juice
1 tsp vanilla extract
2 1/2 Cup Bob's Redmill All-purpose Gluten-free Flour Blend
1 1/2 tsp baking powder
1 1/2 tsp baking soda
1/2 tsp xanthan gum
1/2 tsp fresh grated nutmeg
1 1/2 tsp ground cinnamon

Preheat oven to 325 degrees F
(Gluten-free flours burn more easily, it's best to bake at lower temperatures, especially when it's a heavier batter.)

-Line 2 loaf pans with coconut oil
-In a bowl mix wet ingredients
-In a separate bowl mix dry ingredients
-Add dry to wet, stir until well combined
-Fill each pan halfway, evenly share the dough between the two pans.
-Sprinkle with brown sugar on top

-Bake in the middle rack of the pre-heated oven for 30 minutes. Turn the pans halfway and bake for another 20-30 minutes. Make sure a cake Pic comes out clean when you poke the bread in the middle.
-Allow to cool in pan for 10 minutes then remove from pan and allow to cool completely before slicing & serving.
I hope you enjoy this as much as we do, remember to leave comments or questions down below, don't forget to share with someone you love,and God bless you!