*(Original post was from my old blog The Kinky Coconut, as part of Valentine's Day DIY)
Good morning loverlies!!!!!
Yup, I am really hyped up about this blog post. It leads to such yum-scruminess, that I cannot contain the joy, and must pass this lusciousness your way.
I went searching for a gluten-free hoisin recipe because there were some delicious Chinese meal options I have been missing out on for quite some time now, and I decided that just would not do.
I stumbled upon a tasty recipe and had a go at it, turned out to be fantastic and with some small adjustments of the nit picky Chef kind, I got something that has become a great base for other sauces.
Particularly for my 5 Spice Lemongrass Chinese BBQ sauce. I am breaking this recipe down for you in the 3 parts required to make the awesomeness that is Tofu Puffs with said BBQ sauce, see for yourself how lovely she looks:
Deeelish-ums indeed! I wish you could scratch and sniff, the smell alone will give you happy face. It permeated the whole house when I made it and there were zero leftovers, a big hit for sure and the best parts? No MSG, no gluten, vegan, real ingredients, no refined white sugar, cheaper for your wallet than having to always order take-out, no artificial colours or gross caramels, you will have plenty to use for several meals, you can give it as a gift to the foodie in your life, and a kapow to your taste-buds! Down for the count, this sauce has officially K-o'd everything in the sauce department. Shabang!!!!!
Okay enough sillies, seriously though, you have got to make this sauce. I will be posting the recipe for the tofu puffs in the Chinese BBQ sauce, this week so you can surprise your love for Valentine's day and have an extra romantic night in.
Let us begin with the vibrant 5 Spice powder mix. I don't know if you have ever come across this before but it is big in cuisine all across Asia and the variations are endless. Here are a few pictures I found on-line for different ingredients: First one is from food.com, the second is from finecooking.com, and the last if from delmonte.ph.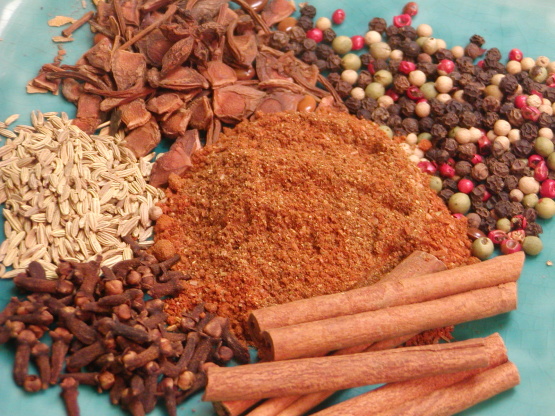 Everyone agrees that star anise, fennel, and cinnamon are always to be a part of this mélange. I personally have about 3 different variations I do which are based on the type of recipe I am doing, the end product flavour profile I am aiming for, and what spices I have in the pantry that make it all possible. I have also been known to cheat and make it a 6 Spice powder on occasion. I did not take a picture of my spice mix but found this one from chowhound.com that looks exactly the same, they all pretty much look alike anywho, so no worries.
Chef Kiki's 5 Spice Mix for Hoisin Sauce (Part 1)
Ingredients:
(Please note that for this recipe I DO NOT use pepper of any kind. Schezuan peppercorns or pink or black peppercorns are traditionally used in 5 spice powder but I found this recipe tastes better without.)
1 Whole Star Anise
5 Whole allspice
1 tsp ground cinnamon
1 tsp Whole fennel seeds
1 Whole Clove
Method:
In a mortar and pestle, grind all spices down to a powder. If you do not know what a mortar and pestle look like, here is a picture of marble one's, which are what I use:
Store your spice mix in a small airtight mason jar until ready to use, feel free to triple the batch if you want to have more on hand for later use and you may also add pepper if you prefer it with.
Now we move onto the hoisin sauce, the original recipe apparently comes from Goop site which is supposedly Gwyneth Paltrows site, I came across a version that was on onehungrymama.com and I proceeded to change it slightly and make it gluten-free along with adding or adjusting ingredients and method. Here is my version for this lovely hoisin sauce, it's pretty close to the original.
Chef Kiki's GF, Vegan, Hoisin Sauce (Part 2)
Ingredients:
(I prefer organic for this recipe but do what you can.)
1/4 Cup of Gluten-free Tamari Organic (Soy sauce is fine, just make sure it's gluten-free)
1 1/2 Tbsp Kiki's 5 Spice Powder (see recipe above)
1/2 tsp Toasted sesame oil Organic (not the same as regular sesame oil, cannot be replaced)
2 Tbsp Grapeseed oil Organic
2 Cloves medium Garlic
1/2 Cup Maple syrup grade B (The darker one)
3 Tbsp Rice vinegar Organic
1 Tbsp Tapioca starch mixed with enough water to make it a very thick paste, about 2 tsp.
*2 Tbsp Massawippi*Organic Miso
Method:
-In a small saucepan, add Tamari, sesame oils, maple syrup, garlic clove, spice, maple syrup, vinegar. Bring to a simmer whisking often, add tapioca starch mix by whisking in. Turn off heat and cook 1 minute while whisking to thicken it.
-Add miso off the heat by whisking it in.
-Allow to cool while you make the BBQ sauce mix.
5 Spice Lemongrass Chinese BBQ Sauce (Part 3)
Ingredients:
1 Recipe Hoisin sauce
1 1/2 tsp Grated fresh ginger
3 Cloves Garlic crushed
1/4 Cup Organic Gluten-free Tamari
1/2 tsp Toasted sesame oil(not the same as regular sesame oil, cannot be replaced)
3 Tbsp Organic Rice vinegar
1/4 Cup Organic Honey
3 Tbsp Maple Syrup
1 tsp 5 Spice mix
1 Tbsp Lemongrass (I use the frozen pre-chopped from Asian markets)
Method:
-Whisk all together in a bowl, bottle and keep refrigerated until ready to use.
-I usually use 1/3 Cup of sauce for a 2 portion serving of tofu or fish or meat. Meat tastes better when it marinades overnight.
Before I get to the pictures, I am going to drop some Miso knowledge on you. We get this wonderful Miso at our health food stores here in Québec, that is like nothing else I have ever used in all my years of Macrobiotic, Raw Vegan, Vegetarian, Cheffing! It is so unique, so robust in flavour tones, and has a load of health benefits. Here is the lowdown from the company along with a link, and I have included a picture. If you cannot get this then use any Miso you like, just
not
Barley
Miso as
Barley HAS gluten.
5 year-old Special Vintage Soybean and Rice Miso
A Gluten Free Product
Our special 5 year-old vintage organic soybean and rice miso is arguably the best of all misos we have produced so far. Due to its unique blend of ingredients, we have been able to extend its natural period of fermentation to 5 years. The result is the "best blend", where all of the components come together in a balanced, full-bodied, exceptional flavor. Like all of our misos, it is produced using only the highest quality organic products, certified non-GM.
• Whole organic soybeans high in protein content. We prefer to use locally or regionally produced soybeans from the Eastern Townships, central Quebec or the Mauricie region.
• Whole grain semi polished arborio rice from Italy. Having tried several types of rice from various parts of the world we opted for round grain rice that lends itself best to fermentation and gives our miso its unique flavor.
• Sea salt.
• Natural spring water.
• An inoculum of Aspergillus oryzae and a selection of lactic bacteria such as Pediococcus halophilus and Lactobacillus delbruekii.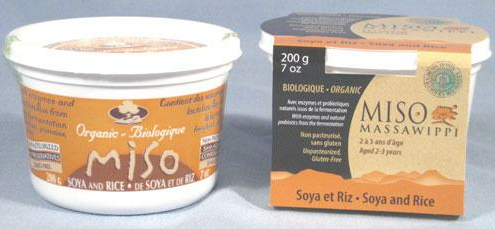 Easy to make and keeps for a few weeks in the fridge, you must refrigerate this sauce!
Recycle baby! I reuse my kombucha drink containers by cleaning off the sticky labels. First I peel them, then they sit in a bowl with a solution of 2 parts baking soda to 1 part olive oil with a good squirt of dish soap which I make into a paste and rub all over the place where I removed the label. I allow it to sit for 10 minutes and usually a good scrubby wash takes it all away. These particular bottles were very scummy and required a second solution slather and soakage.
I then used a funnel to pour the sauce in, normally I place the bottle and funnel together in the sink as I pour to avoid problems but I wanted you to see the method properly.
Artsy fartsy play time came next, I used my calligraphy fancy marker I recently splurged on and cut out a cardboard tag then I wrote what it was and glued some pretty paper cut out hearts with a glue stick.
DIY fun! I used a hole punch and punched a place to wrap rustic twine into it and then twirled it around the bottle. She looked so purdy when she was done and tastes freaking scrumptious! You must make this, I am posting the tofu puff vegan GF recipe soon, soon, I promise, so you can make it for Valentine's. Will link to this post when the time comes, aiming for Thursdays.
Made it, here is a pic & the link:
Enjoy and leave comments down below, I love to hear from you!